American teenager Coco Gauff delighted the home fans by reaching her first US Open semi-finals with a 6-0 6-2 victory over Iga Swiatek's conqueror Jelena Ostapenko on Tuesday.
Gauff, whose lead-up to the US Open included hardcourt titles in Washington and Cincinnati, converted six of her seven break points and dropped serve just once during the 67-minute match on a sun-drenched Arthur Ashe Stadium.
The 19-year-old is the first American teenager to reach the final four at Flushing Meadows since Serena Williams was the runner-up to her older sister, Venus, in 2001.
Gauff was in buoyant mood after her straight-sets victory over Ostapenko

More history for Gauff
Coco Gauff is the youngest American women's player to make the semi-finals of Grand Slams on multiple occasions (2) since Serena Williams made the semi-finals of the US Open 1999 and Wimbledon 2000.
"It feels great, I'm so happy," said Gauff. "Last year I lost in the quarter-finals and I wanted to do better. There's a long way to go but I'm happy and ready to go back to work.
"Honestly, I didn't feel comfortable the whole match, even on match point. I know the game she plays. It's really tough against her – you can't really be aggressive. She's a top player and she's had a great tournament.
"There's a saying in basketball that 'defence wins games'. It doesn't always work in tennis but today that was the case."
How Gauff made the semi-finals…
Ostapenko entered the match full of confidence having upset top-ranked Swiatek but against Gauff the misfiring Latvian 20th seed could not find her range and delivered an error-strewn performance.
Gauff was in control from the start and showcased excellent court coverage while delivering a steady stream of balls deep into the corners en route to capturing the first set in 20 minutes and limiting Ostapenko to seven points.
Former French Open champion Ostapenko, playing in her first US Open quarter-final, finally got on the board with a break to level the second set at 1-1 but Gauff didn't waver as she broke right back.
She went up a double break for a 5-2 lead before closing out the match on serve in 68 minutes to avenge her round of 16 loss to the Latvian at this year's Australian Open that left the American in tears.
Watch the winning moment as Gauff edged Ostapenko in a final intense rally to seal her spot into the US Open semi-finals

Up next for Gauff will be Czech 10th seed and French Open finalist Karolina Muchova after she hammered 31 winners in a comfortable 6-0 6-3 victory over Romanian 30th seed Sorana Cirstea.
With her win, Muchova became only the second Czech player to reach the women's singles semi-final at Roland-Garros and the US Open in a calendar year, after Helena Sukova in 1986.
"Obviously, she [Gauff] is an amazing player. She has the home crowd here," Muchova said.
"It's going to be very tough. I'm trying to enjoy this win, then I'll try to put up a fight against Coco."
Tale of the Tape
Ostapenko vs Gauff: Tale of the Tape
| | | |
| --- | --- | --- |
| 0 | Aces | 4 |
| 2 | Double Faults | 4 |
| 53% | 1st serve win percentage | 65% |
| 29% | 2nd serve win percentage | 60% |
| 1/4 | Break points won | 6/7 |
| 12 | Total winners | 13 |
| 36 | Unforced errors | 14 |
| 35 | Total points won | 58 |
Henman: Credit to Gauff's defensive skills
Former British No 1 Tim Henman on Sky Sports: "It was an incredible performance. We talked a lot about the matchup and the firepower of Ostapenko. Coco was able to nullify that; Ostapenko just made so many mistakes.
"But judging by that reaction from Coco, she knew what a threat Ostapenko was, so she'll be absolutely delighted to come through so easily."
Henman and Marion Bartoli analysed Ostapenko's shot placement and how Gauff perfectly combated that.
Tim Henman and Marion Bartoli praised Gauff's ability to force Ostapenko into several unforced errors in their clash

Gauff: Serena is the greatest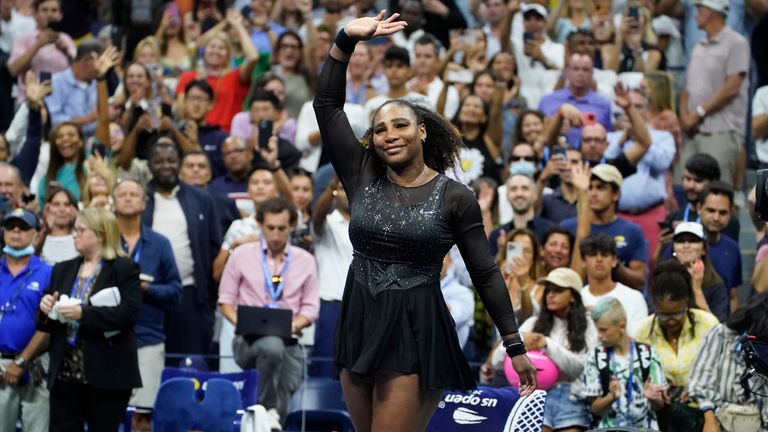 I never take it for granted. She's my idol. I think if you told me when I was younger that I would be in these same stat lines as her, I would freak out.
Gauff knows she still has a long way to go if she is to come even close to the achievements of Williams, who won six US Opens among her 23 Grand Slam titles.
"Being in any sentence with her is great. I mean, she's the greatest player of all time. You know, I'm nothing close to that yet. I'm just really honoured to be in the same sentence as her," said Gauff.
"It's something that I'm used to a lot. I feel like a lot of the stats have aligned with her and people find new things to think about.
"I was the first teenager in the quarters and now semis, so I'm guessing if I win, they're going to be, like, finals. It's just going to keep going.
"I never take it for granted. She's my idol. I think if you told me when I was younger that I would be in these same stat lines as her, I would freak out.
"I'm still trying not to think about it a lot, because I don't want to get my head big or add pressure, but it is a cool moment to have that stat alongside her."
Watch the US Open live and exclusive on Sky Sports up until September 10. All courts will be available to watch for the first time

Sky welcomes tennis back to its channels, adding to the existing sports portfolio and reaffirming the broadcaster as the home of live sport in the UK & Ireland.
Sky Sports' new mixed reality studio features multiple custom-built LED screens, integrated light 'sabres', and an open canopy roof, making the space alive with colour and energy to reflect the vibrancy of the last Grand Slam of the year.
Relive Andy Murray's rollercoaster career at the US Open, which saw him claim his maiden major title in 2012

With integrated AR capabilities, a versatile LED floor, and a 'fourth wall', the viewer will be transported to the Arthur Ashe Stadium in a 360-degree immersive environment. Our tennis experts will take the viewer into the eyes of the players for expert Hawkeye analysis and insight as the tournament progresses.
The technology involved allows us to add an entirely new dimension and will bring customers closer to the action.
Highlights of matches will be available across Sky Sports TV and our social media platforms.
Video highlights will also be available on the Sky Sports website and app, where there will also be a daily live text commentary on the Sky Sports website and app, as well as live scores, reports, analysis and features.
Stream the US Open on Sky Sports with NOW for just £26 a month for 12 months. Cancel anytime.