British No 1 Cameron Norrie got his Wimbledon campaign up and running with a four-set victory over tricky Czech youngster Tomas Machac.
The 27-year-old, a semi-finalist here last year, dropped the second set but went on to record a 6-3 4-6 6-1 6-4 win under the roof on Court One.
Machac, ranked 108 in the world, was making his Wimbledon debut and playing the first Tour level match on grass of his career.
But nevertheless the 22-year-old was a dangerous first-round opponent who beat Norrie's compatriot Dan Evans in the Davis Cup and took Novak Djokovic to a deciding-set tie-break earlier this year.
There was no drama for Norrie in the opening set, though, as he secured a break for 3-2 and another to wrap it up.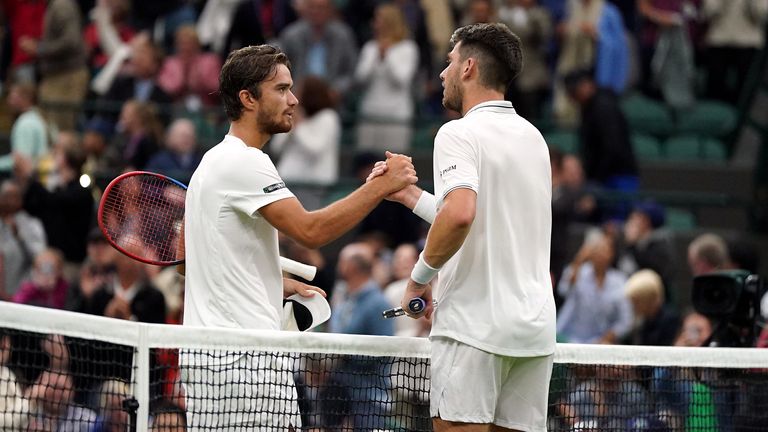 The 12th seed is still sporting the tape on his knee that he wore throughout Queen's, but whatever the issue is it was not bothering him unduly.
However, things unravelled in the second with Norrie twice pointing an accusatory finger at the grass after misreading the bounce of the ball and dumping forehands into the net before Machac levelled the match.
But Norrie got back on track in the third, securing a double break to take the set in just 24 minutes.
Sky Sports News' Eleanor Roper explains the big problem Wimbledon organisers have after nearly 70 extra matches will need to be played due to the bad weather

He retrieved an early break in the fourth with a forehand which left a flagging Machac in a heap on the baseline.
Further break points went back and forth but it was Norrie who made one stick to complete an encouraging victory in two hours and 32 minutes.
"The last two years that was me waiting around in the rain," said Norrie. "So it was nice to have a run last year and then to be able to play on this court.
"It's nice to get it done and get the first one out of the way."