Mikel Arteta hailed his players' ability to produce moments of magic after Arsenal beat Everton 4-0 to move five points clear of Manchester City at the top of the Premier League table.
The Gunners endured a frustrating first 40 minutes against Sean Dyche's side but Bukayo Saka's superb opener, rifled home from Oleksandr Zinchenko's incisive pass shortly before half-time, set them on their way to a commanding victory.
Gabriel Martinelli added a second in first-half stoppage time when a VAR check ruled him onside after he was initially flagged offside, with Martin Odegaard scoring the third in the second half before the Brazilian added his second to wrap up the victory.
"I'm really happy," said Arteta afterwards. "It was the game that we had in hand against an opponent that we knew were going to make life really difficult for us. We experienced that at Goodison.
FREE TO WATCH: Highlights from the Premier League match between Arsenal and Everton

"We started the game with some frustration, not really understanding what we had to do, allowing them to run in certain transitions, but after 20 or 25 minutes I think we started to get much better and I think the timing of the first two goals was key.
"We needed a magic moment there and Alex [Zinchenko] and 'B' [Bukayo Saka] produced it. And then the team grew, especially with Thomas [Partey], because Jorgi wasn't feeling good today.
"When he came on, he really gave some presence and some stability to the team, and I think the second half was superb."
Asked again about Saka's opening goal, Arteta added: "In the end, you have to produce those magic moments and take that initiative and have that mentality, 'I'm going to do it on the pitch. I'm not going to wait for somebody else to do it.'
"When you have a few players who have the willingness and the capacity to do that, you have a better chance to win more games."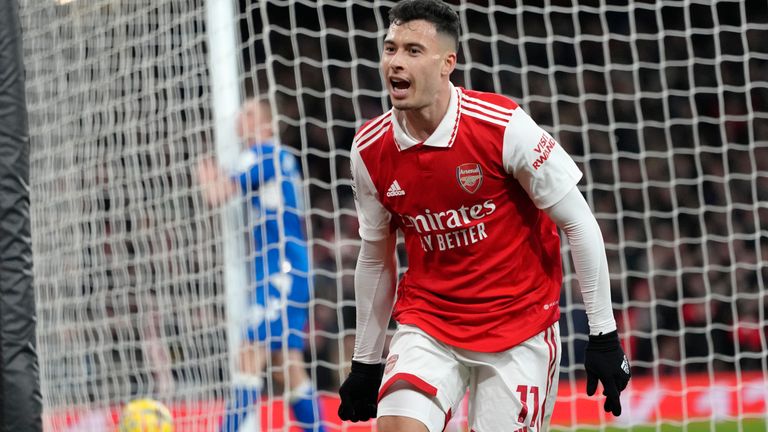 Saka and Martinelli's goals took them both into double figures in the Premier League this season, with their manager praising their appetite to learn and improve.
"Credit to them, because in the end they have to do it themselves, but we try to help them with our way of playing to get them in those positions as much as possible," he said.
"They are so willing to learn. They are asking for more every single day. They never have enough information. They want more, about the defenders, the space, the practice.
"In the end, when you have that, and you have the talent they have and the ideas they have, good things will happen."
Arsenal have now won three games in a row following a three-game winless streak which temporarily allowed Manchester City to move above them at the top of the table, but Arteta insists he never doubted his players' ability to bounce back.
"When you look at them every single day and you just feel how much you want it, and how much they really want to produce what we ask them to do, and how much they want to please our people, I had no doubts that we were going to turn things around.
"I'm really pleased with where the team is right now."
Asked about Arsenal's title chances, he added: "What I like is that everybody has the enthusiasm to do it. We're not going to stop that, we have to promote it.
"But the way to promote it is to look at this game and understand we have to do a lot of things better, especially in the first half, that we can play better, and make sure we prepare really well against Bournemouth because that's going to be a really tough game."

Sunday 5th March 1:00pm


Kick off 2:00pm

Arsenal host Bournemouth in the Premier League on Saturday; kick-off 3pm. Meanwhile, Everton visit Nottingham Forest at the City Ground on Super Sunday; coverage starts at 1pm with kick-off at 2pm.